Welcome To BeatDrops Pads Pro!
Beat Drops Pads Pros is a unique and fun new way to make music!
Are you a skilled beat producer? Show off your skills to your friends!
You have unrestricted access to thousands of samples from BeatDrops. What Pads Pro does is randomly downloads new samples for you to play!
You have 12 big sound pads which you simply tap to play a sound. Where you press the pad determines the volume of the sound played.
Individual Pad Options!
For each Pad you can Reload, Change and Stop the Pad Sample.
You can Lock the sample in so it is never changed.
You can also set the sample to LOOP PLAY infinitely!
There are 6 styles of samples Drums, Bass, Chords, Synths, Misc and Vocals.
Multi Touch Support – Tap upto 5 pads at the same time!
Huge collection of Sound Packs split into 6 groups:
Drums – Loads of kicks, snares, percussion and drum loops…
Bass – 808, wobbles, saws and deep bass loops…
Chords – Ambience, atmospheric, orchestral and strings loops
Synths – Sitars, banjos, arps, melody and key loopsMisc – One off sound hits, piano notes, sound effects, scratches and more…
Vocals – Adlibs, hooks, vocal effects, male and female vocal loops…
Make EDM, Dubstep, Hip Hop, Drum & Bass, Garage, Trance or Trap music.
Random Samples!
When you Press "New!" Pads Pro uses your settings to download 12 new samples from BeatDrop's sample library, including snares, kicks, guitars, flutes and synths!
But you have options to choose what style of samples for example drums or bass.
You can also select to only download random loops.
PadPoints!
We give you 66 PadPoints for Free when you start using Pads Pro.
When you download new samples or record it will use PadPoints.
Activating custom options uses more PadPoints
You can easily buy more PadPoints from the PadPoints Shop in the app!
Rewarded Video Ads
In versions 12.0.1 and later you can watch short video ads and receive PadPoints as rewards. You will need to consent to show personalized ads for this feature to work. We do not restrict the number of ads you can watch however it is limited to availabilty of new ads and we ask that you do not abuse this feature. If you need a larger amount of PadPoints then you can purchase bulk packs at discounted prices using in app purchases.
Record MP3!
Press Record and compose your cool beat which is then recorded to mp3 using your mic in realtime! The MP3 will be saved on your Android device in the public Documents/BeatdropPadsPro/ folder
Download BeatDrops for free:



Learn Pads Pro via Tik Tok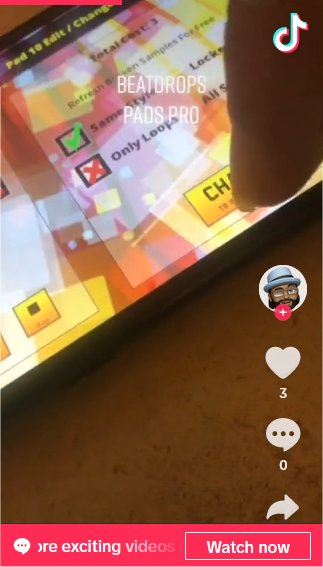 Privacy & Terms of Use.
Please refer to the App Disclosure shown in the app and also read our privacy policy here before using Pads Pro app.
BeatDrops Beat Maker:
If you want more control and advanced features why not try our other music creation app, BeatDrops?