Available as a free download on Google Play Store and Apple App Store. Just scroll down for download links!
Moocher app is a dating app for meeting new people, making friends and finding new local groups and events nearby.
Groups can be created by any user. Events and Offer are posted by business users to promote their services and offers like Buy one Get one free pizza. You can also invite your friends and specific users to your new created groups and also promote the group to all users withing your specified area.
Moocher Promotion video:
Key Features of Moocher app:
By downloading the app, you will have the friend finder feature that helps you to find real people staying nearby. This can be done once you open the search section of the dating app. So, if you have been lonely and bored and need a friend to talk to, hang out at night with or what fantasies you dreamt of. This app will make it a reality.
If you are looking to make a lot of friends, have people of similar interests or experience. The Moocher app gives you the opportunity to create or join unlimited number of groups or events as you wish. It's a world of making friends online and take to dating level if you desire. You can see all your friends conveniently in the Moochers List from the side menu.
Moocher app gives you access to have a group chat with other users. It's nice to start such conversations or join one as you continue using the dating app. So, it is the dating app that you should download as it concerns interacting with numerous friends on a daily basis.
Check out more Moocher video here
Another key feature of the Moocher dating app is the ability to hide your profile from people. It grants you top privacy and comfort as you desire while on the app. Group admins can also choose who joins their groups when requests are received from users.
Deleting unwanted messages and chats is possible with the Moocher dating app. These conversations once deleted, will no longer be see on all directories of your device. A feature that comes handy when you are working on freeing spaces on your device.
With the age category, you can adjust the search to as high as 60 years depending on the age range you are find friends on. So, this friend finder app is not only for the younger ones, but for those above 60 looking for friends that they can sit at the park and talk about life experiences, friendship and love life.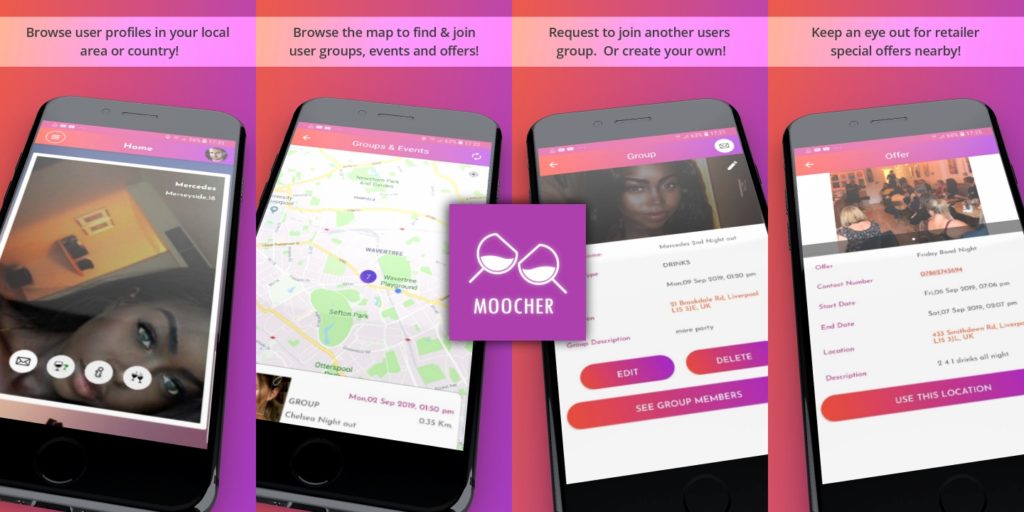 You can add at least 4 photos on your profile that visitors to your profile will check out when deciding to be friends with you. Isn't that awesome? Show off your best poses or attirbutes.
The information about yourself section helps you to express your interest, your personality and your passion. If you are just looking for friends let users know.
If you check, there are lot of dating apps around, but Moocher app stands out as easy to use, accessible to people 18 years and above and have wonderful graphics that will make your chatting experience exciting. Registering on the app took less than 3 minutes and I was able to find friends nearby as soon as I was done.
Using the Moocher dating app comes with a difference from other dating apps like tinder as you can setup and join groups as soon as you become a user. It's a great app for making friends on the go, I love it.
Download now via Google play store:

Like Moocher on Facebook: