Maintain your traffic levels gives better ranking!
Search engines and other mainstream ranking sites will take into consideration your traffic levels and quality when they are applying new ranking to your website.
You dont want to be at the bottom, you dont want low traffic level and you dont want to be penalized for bad quality traffic or fluctuation.
So if you have a new blog/website and have no traffic you will have to do some serious social promotions or heavy investing to market your website.  Maybe you have no time or expertise so cant do then, but then your website will just catch dust and sit at the bottom of the pile with very low ranking.  If you lucky you might get a dozen or so visitors per week/day.
So why not let us do the hard work.  We have spent last year going through several different traffic sources to find the best and most reliable ones.  We have tried and tested these and now have amassed over 150 global sales, with many repeat buyers.  We also handle monthly campaigns for clients.
Check out our traffic services below:
or this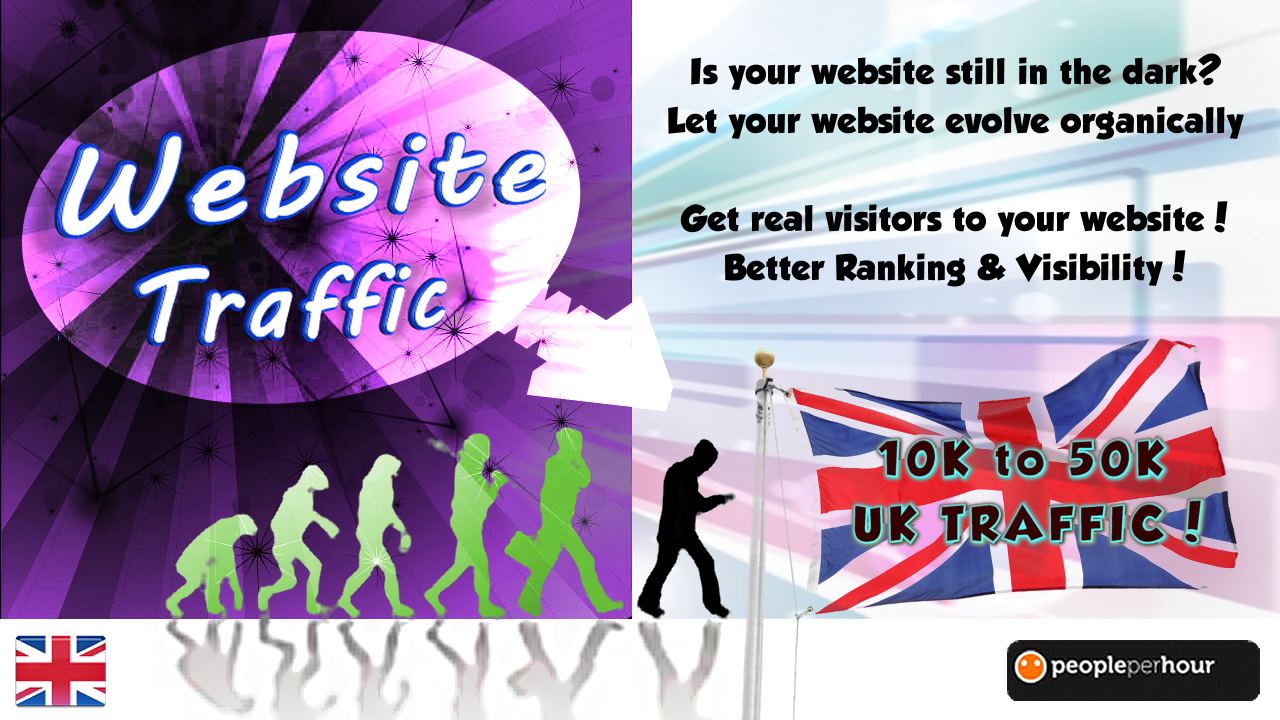 Buy 60K traffic for just £30 and we will deliver it over 30 days.
Thats just £1 per day!
So what is the problem?
Ok you bought one of my services, problem solved right?
Wrong…
If you just bought one hourly here is how your traffic stats look like to search engines…
Your site may have got some interest maybe even picked up the odd repeat visitor or subscriber to your blog.  But you havent thought of long term goals.  This one purchase will not help your site ranking much.  After your purchased traffic ends you will get a big drip in traffic and low visitors count.  This can have a negative impact on ranking!
Search engines and ranking sites want to see consistent levels of traffic which does not fluctuate much.  They like to see stable websites gradually increasing there traffic levels.  Such as 20K month 1, 40K month 2, 60K month 3 etc..
If they see for example 500 visitors per day for 30 days then it drops right down to 10 visitors per day, what will they make of this?
Website admin bought paid traffic and now the campaign ended – so its not organic or non paid traffic (which ranks better)
The website no longer exists – Now its just residual traffic – very bad, why should it be ranked then?
The website got penalized for spamming or malicious content by ISP or Google – Very bad for ranking
The website has been blacklisted so has a big traffic drop – Even worse for ranking
A sudden drop could mean the website or server where it is hosted is not maintained reliably.  An badly managed website means lower ranking.
These are just the more obvious conclusions that can be drawn.  For ranking they will look at lots of other factors like, traffic device source, bounce rate, session duration, return visitors etc…  But to control all these aspects you would end up paying hundreds of pounds a month or more.
So what we offer is cheap traffic for ranking which is delivered from various social sites, my own sites and third party ad networks such as Bidvertiser.  You can also set the duration of time 10 to 60 seconds which visitors have to spend on your website.  We now also offer keyword targetted traffic.
Whats the Traffic solution?
Well first way is really through hard work.  Build your links to your site on different high ranking websites, forums, Twitter, Facebook etc.. and carry on doing this over time.  If you have a blog keep making new interesting and keyword rich content in your niche.  Post your site and pages using a XML sitemap to Google webmasters console and submit site to search engines.  You have to be persistent and determined.  You have to believe and make others believe that your website is worth there time.  Over time you will build up your organic and search traffic so its gradual and stable.  You will find that your traffic level maintains at a certain level, until you do more active promotion and make new blog posts.
If you decide to buy traffic (and there is nothing wrong with this) to either form the basis of your ranking strategy or to compliment your own promotion/work then again you have to maintain this traffic level and increase it gradually.  Do you think any website will go from getting nothing to 10,000 visitors in one day?  Very unlikely unless your content went super viral.  So if you buy my services (above) your 20K traffic can be split from 5 to 30 days.  If your site has 10 hits per day, try 20K over 30 days, thats just £10 (correct at time of publication) per month so you will get about 660 visitors per day.  The next month you can carry this on buy buying again on buy 20K over 14 days.
The key is to increase and maintain traffic at a level you are comfortable with financially and which does not look suspicious.  Dont drive 100K hits per month to a simple website with just a picture and your contact details for example.
Ads & Traffic:
If you have ads on your website like adsense or chitika then you have to be careful with your traffic and where you buy it from.  Adsense for example will penalize you for low quality traffic.  We offer adsense safe traffic (see above).  In reality the best way is to buy sample traffic and see if your adsense account marks this as valid traffic or not.  There are users who have bought expensive traffic and found even that was marked as invalid traffic on adsense.
Geo Targetted Traffic:
We can also offer you 2000 visitors per order if you are looking real GEO targetted traffic.  Simply buy this service and state the country you want traffic from using this list:
Africa
Argentina
Asia
Australia
Brazil
Brunei
Canada
Caribbean Islands
Chile
China
Columbia
Czech Republic
Egypt
Estonia
European
Union
Finland
Germany
Greece
Hungary
India
Indonesia
Italy
Japan
Malaysia
Mexico
Middle Eastern
Netherlands
New Zealand
North America
Norway
Panama
Peru
Phillipines
Poland
Portugal
Romania
Serbia
Slovakia
South Africa
South America
Spain
Sweden
Switzerland
Thailand
United Kingdom
United States
USA – Central
USA – Eastern
USA – Mountain
USA – Pacific Venezuela
Vietnam
Save