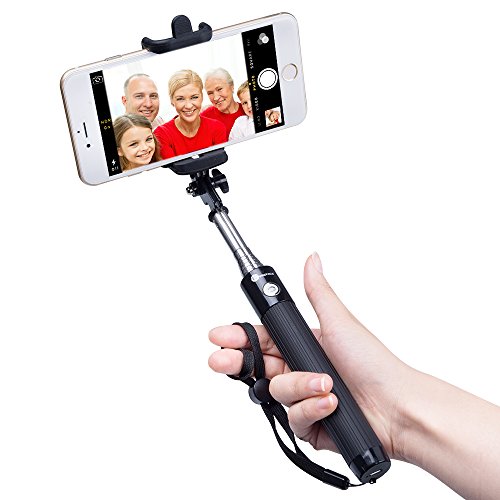 buy now

£20.99

[ad_1]

Easy Selfie
Whether you are part of the Selfie Generation or just camera-conscious, the TaoTronics TT-SH10 Wireless Bluetooth Selfie Stick makes taking selfie photos a whole lot easier.
Wireless Control
Don't stretch your arm and awkwardly hit the photo button; pair it up with your smartphone and use the Bluetooth button to control the camera and take a steady shot.
Extendable Arm
Reaching up to 30 inches, you can hold your camera further away so you can get a better viewing angle. Fit in all your friends and pose for that perfect overhead shot.
Travel Size
Compact and weights the same as your phone, the TaoTronics Bluetooth Selfie Stick is made for that party, holiday, adventure, or a day out with the family.
Compatibility
Theoretically supports iOS 5.0 or Android 2.3.6 and higher.Android users may need to download the free SelfieCam APP to take shots with the selfie stick. The Selfie Stick is compatible with smartphones with a width between 2.2 to 3.5″; this includes larger phones like the iPhone 6 6 plus 5s 5c 5 and Samsung Galaxy S6 S5 S4 S3 Note 4 3 Moto G HTC One M8 M9 LG G3 Google Nexus 5 4 . (Not suitable for Window Phone)
What's in the Box
1 x TaoTronics Bluetooth Selfie Stick (Model: TT-SH10)
1 x USB Charging Cable
1 x Lanyard
1 x User ManualSuperior Selfies: Improve your selfies with this 32in adjustable selfie stick. Angle adjusts 270° for the perfect shot.
Universal Compatibility: Works with phones as small as the iPhone 4 or as wide as the Galaxy Note 4 (phones 2.2 to 3.5in in width).Extendable arm up to 30″
Awesome Battery Life: Lasts an impressive 20 hours (or 3000 selfies) on a single charge.
Handy Design: A compact, ergonomic selfie stick with seamless Bluetooth connectivity makes taking selfies incredibly simple.
What You Get: TaoTronics Bluetooth Selfie Stick, wrist strap, micro USB charging cable, welcome guide, our fan-favorite 18-month warranty and friendly customer service.

[ad_2]