3 Grams New Update
I have just updated and uploaded the new version 23 of 3 Grams Digital Scales app for Android. In this new update I have added some updated API and some bug fixes as below:
Improved performance – Several modifications have been made to the final build apk and also streamlined code.
Some bugs were fixed with push notifications and permission request has been added for Android 13+ support. Users can allow or deny push notification permission which can also be changed via the app settings from your device settings.
Fixed bug with visual scales and camera photo. Added support for Android 13 by adding permission requests.
Billing library for in app purchases has been updated to v4 for improved security and functionality.
Logo has been updated to 2023 version
Several other bugs that were causing crashes have been resolved.
Tested on Android v5.5 and v13
In App Purchase Of Credits:
In v23 we have disabled in app purchases, you will be redirected to our website from where you can still purchase calibration credits as coupons codes that you redeem by entering them into the app. You can purchase them on the website using Paypal. The coupon code will be sent to your Paypal email once your payment goes through. You can see the purchase page here aswell.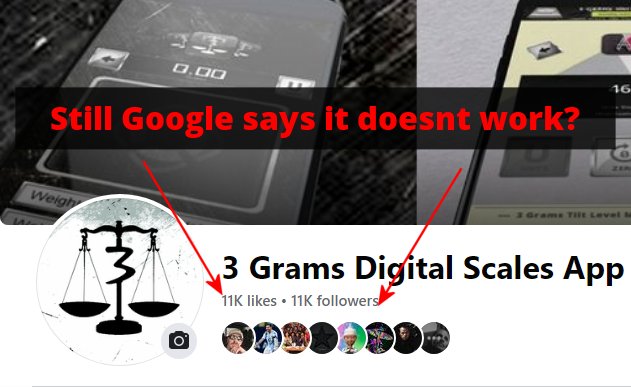 Download or update 3 Grams today:
Due to some current restrictions with uploading to Google Play store you can currently only update or download this new more stable and secure version 23 via the website. You can read more about the unfair suspension of the app by google play here. We hope you can support us by sharing this article with others.
Its safe and you are free to scan for virus etc… before installing. If you have credits purchased do not uninstall the app or clear the app cache, just install the new version over the old one. Follow these steps:
Download the app by clicking here
Allow installation of third party apps if you are required to
Install the app

I hope you can support 3 Grams by also liking the social pages and sharing the app with friends and family
Follow us on Tik Tok – we have several demonstration videos of 3 Grams and other apps
Like the 3 Grams Facebook Page and share with your friends.
Like our Twitter page – where we post coupon codes now and again.