Suicide Squad 2016 Movie Review
[Warning Contains Spoilers!]
I watched Suicide Squad not really expecting much nor being a huge fan of the characters although being a big fan of The Flash, I was excited to see his appearances, be them short, in the movie.  It was like getting a taster of the Justice League movie coming soon.
The first part of the movie is introducing the main hero/villain characters one by one with flashbacks and back stories.  Im not even sure how true these are to the comics but I didn't really care, its about how these characters were used and developed in the movie.  The Joker, Batman and The Flash are also thrown into several scenes which introduces aspects of the Justice League.  So yes after some initial doubts we realize that Ben Affleck is actually in the movie and not just a stunt double!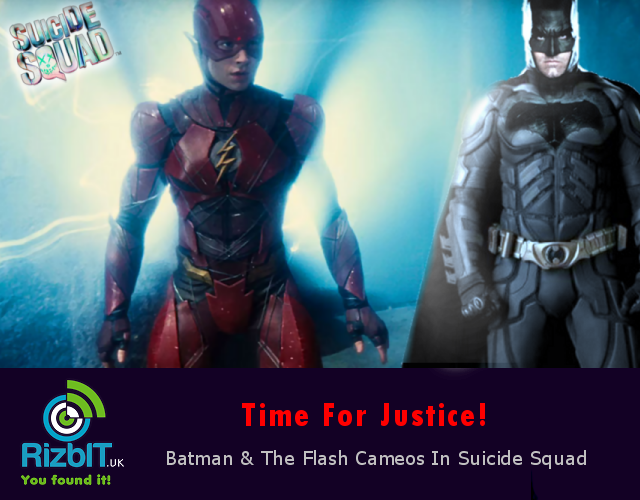 Once we have been introduced to the characters it is a bit of a mash up as we have to follow several angles and scenes, which in a way do tie in eventually.  Some would say its a bit like Batman Vs Superman in that it was all over the place.  If you thought BvS was confusing this is probably worse for you.
In The USA the people in charge are having concerns about Superman and metahumans and do not feel safe.  They know there weapons wont defend them against Superman or the likes.  So the solution offered by Waller is to build a team of 'disposable' and controllable villains as a secret Task Force which can be used in times of need.
Here is a short animation I made (Watch it on Youtube here for best effect!)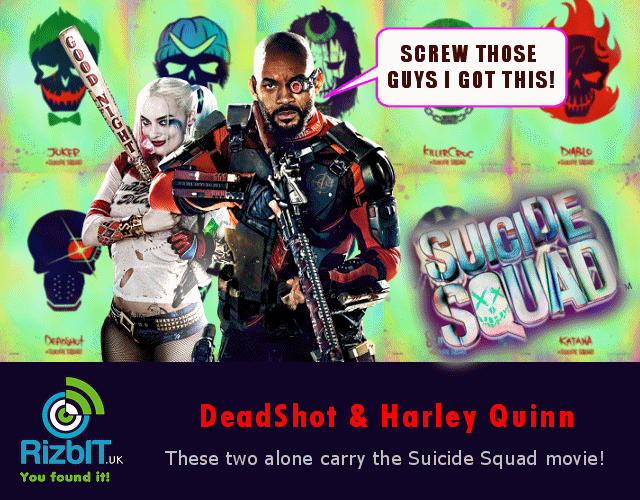 For me Deadshot and Harley Quinn stole the show.  Will Smith has done an entire super hero movie as Hancock where he played the main role so he is use to the big screen and attention.  This shows in his confidence and acting style, none of the other characters even touch him.  From the moment we see him he takes charge of the movie with with his great acting; really getting into the character, he adds his own one liner humour and it lifts the movie up every time.  Killer Croc's one liners on the other hand just have you pause for a while, confused then forget it carry on..  The whole movie could have just had Deadshot and Harley Quinn (with Joker on the side) and I think it would have been just as good if not better as we could have explored these characters in more depth.  Like how he became Deadshot..was he a metahuman or just super skilled?  Why did the Harleen Frances Quinzel want to become evil so much, was her love for Joker the sole reason?  Why would someone of this intelligence fall for a killer villain like the Joker?  Was she depressed with her 'normal' 9 to 5 job?  We see in a flashback that her dream is to have a family and normal life with Joker, but maybe she feels that to have the Joker's love she must comply with his lifestyle.
Without Deadshot and Harley I would have this movie on par with Fantastic Four movie (the second remake version) which to be honest wasnt all that.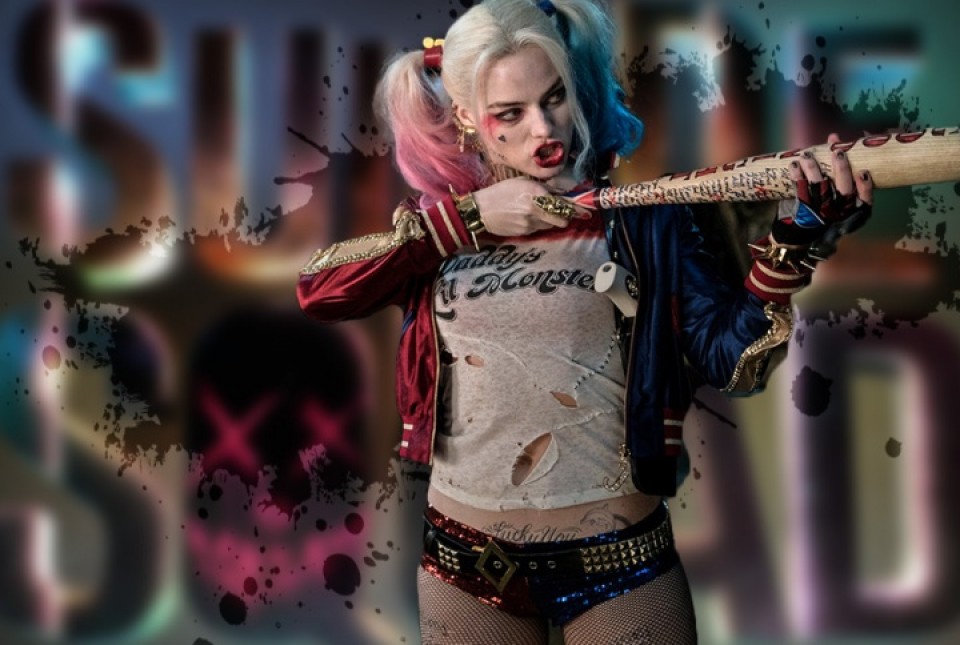 Harley Quinn is sexy, crazy and childish.  But her acting is spot on and she delivers a top performance in each scene.  We see that she used to be mature and very intelligent but then transformed to Harley Quinn due to her love for the Joker.  We see her mature and intelligence come out in some scenes like in the bar where she exclaims that they are all actually 'bad guys'.  She has got guts and sort of fearless often calling the others 'pussies' she even takes on the Batman!  In several scenes she leads the others into new fights.  She isn't scared to go solo and battle the Avocado like evil henchmen.  In the end its her deceitfulness and maybe intelligence that lead to the killing of the witch as she rips her heart out pretending to surrender.  The movie would not be the same without her, actually it would have been much more dull and would not live up to the bright artwork and posters.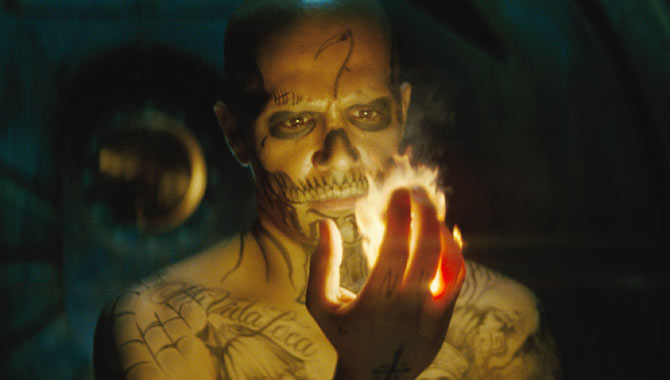 El-Diablo was the firestarter.  The gangbanger that killed his wife and kids in rage.  But now turned a new leaf vowing to not use his powers.  He has small parts in the movie.  Reluctant to fight and not exactly good acting, but more a screen filler.  We do see him in a big fight seen with the Enchantress's brother, but most of this is CGI.  We see his powers really blossom when he gets raged and then his whole body turns to flames like The Flame from Fantastic Four. He then is able to battle the bad guy single handedly.  Not sure if he dies in the end or whether his transformation would have saved him from the bomb blast.
The Joker was in the movie, but yes he wasnt really needed as much.  But he does give a break in the movie from all the different angles.  Its a character we know and are used to with and so it could be could he is in it to hold the movie together like a glue.  There was some complaints from viewers as to why the Joker was even in the movie.  But he doesnt have the main role.  He is like a side villain.  You have to remember its not a Batman movie so the Joker is not the main villain.  Though we see him going on killing sprees as per his usual routines in previous movies.  This version of Joker is more 'bling' and actually looks alot scarier, more monster than human.  He pops in and out of the movie quiet stylishly.  He is Harley Quinn's lover and was there when they explained her back story, so it makes sense that he is in the movie all the way through…right to the end.  In a way its like a creepy evil love story….weird as none of the 'good guys' in the movie 'get the girl' or triumph in love.  But Joker (the villain!!) saves his girl and rescues her from prison.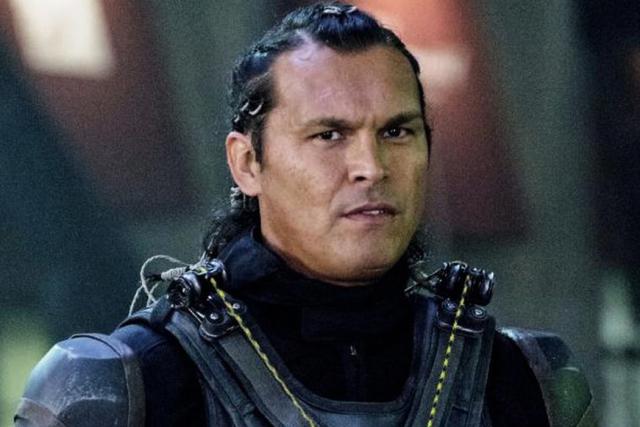 Slipknot…  un well.. Dont know who he is or care.  All i can say is he was probably only in the movie so they could kill him to show that the implanted bombs were real and that the people in charge of the Task Force were not afraid to kill them.  Moving on…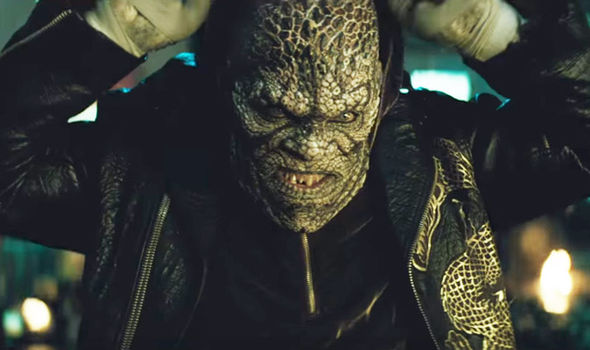 Killer Croc.  Well he is probably on e of my least favourite characters in here.  I really don't like his voice or one liners.  Though they tried to give him killer lines they dont work.  Its another character they could have left out and we wouldn't have cared much.  Maybe his is like the BA Baracus
The Enchantress is the main villain in the movie who is first in the Suicide Squad.  She betrays them and decides to build a machine to take over the world.  When we first see the Witch in the cave its quite scary, if this was a horror movie you WOULD be scared!  But watching it in context of the movie we are just shocked a bit.  Very powerful she is able to travel via sort of teleportation very fast.  Also able to mentally project and create illusion.  She takes several different forms in the movie, one is shown above when she has gained her full powers.  Without her heart (her weakness) she is a darker more elusive spirit like being.  She releases her brother who have lived for thousand of years and once ruled as gods on earth, together they take on the Suicide Squad and special army forces.  She compares to Apocalypse from the latest X-Men movie in their powers and also how they must have other hosts in order to live.  She is actually able to take on and defeat the entire squad on her own and in end is only defeated due to her hesitance to kill and by Harley's trickery.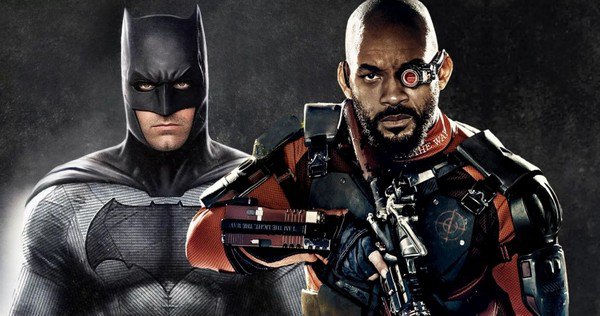 Deadshot as we said above steals the show, his one liners and jokes hit their target just like his shots.  He is captured by Batman, but then again if it wasnt for his daughter he could have killed him.  His dream is to kill the Batman.  He plays a big part in the movie and takes a shine to Harley even passing up the opportunity to kill her to free himself from prison.  Will there be a solo DeadShot movie, like there has been for Iron man and DeadPool.  It could work…its Will Smith after all.
Captain Boomerang is also a wasted character again if they left him out would we have cared much?  Im not sure what he does really, we dont get to see his boomerang skills (unless i missed them).  He is a good fighter maybe, but yes not much to him.  Moving on…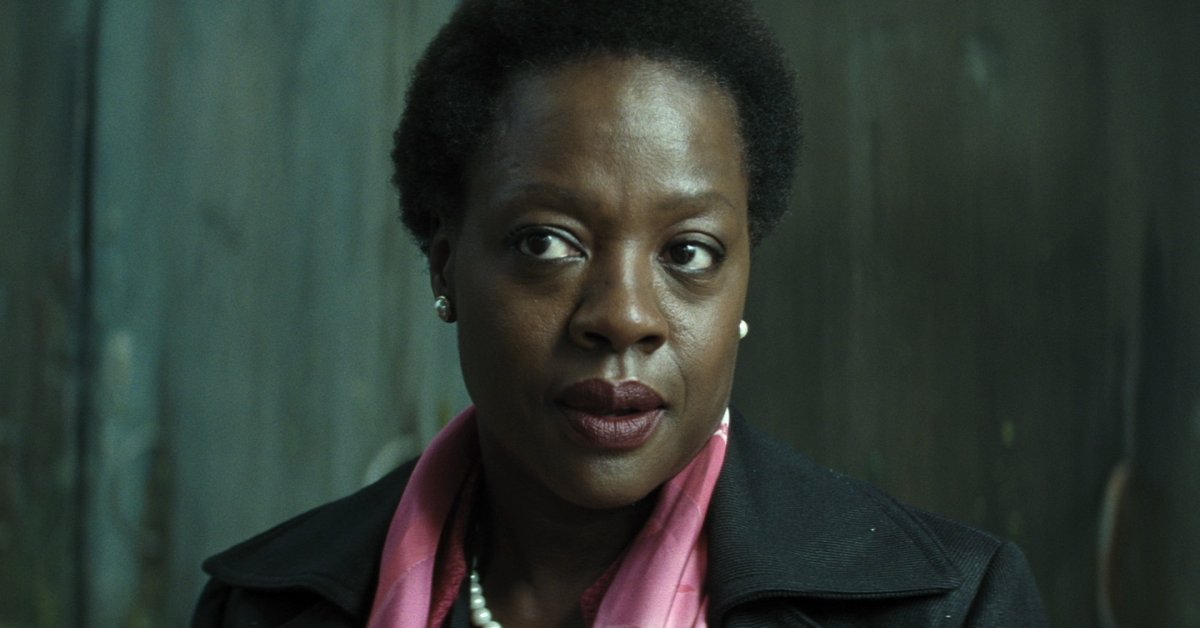 Amanda Waller is a high ranking government official who thinks up the Suicide Squad task force.  Its her ruthlessness and assertiveness that keep the squad in check.  Not a meta human but has lots of influence high up, we see in the end talking with Bruce Wayne so is aware of the Justice League aswell.  We can liken her to Rosalind Price character from Marvel Agents of Shield.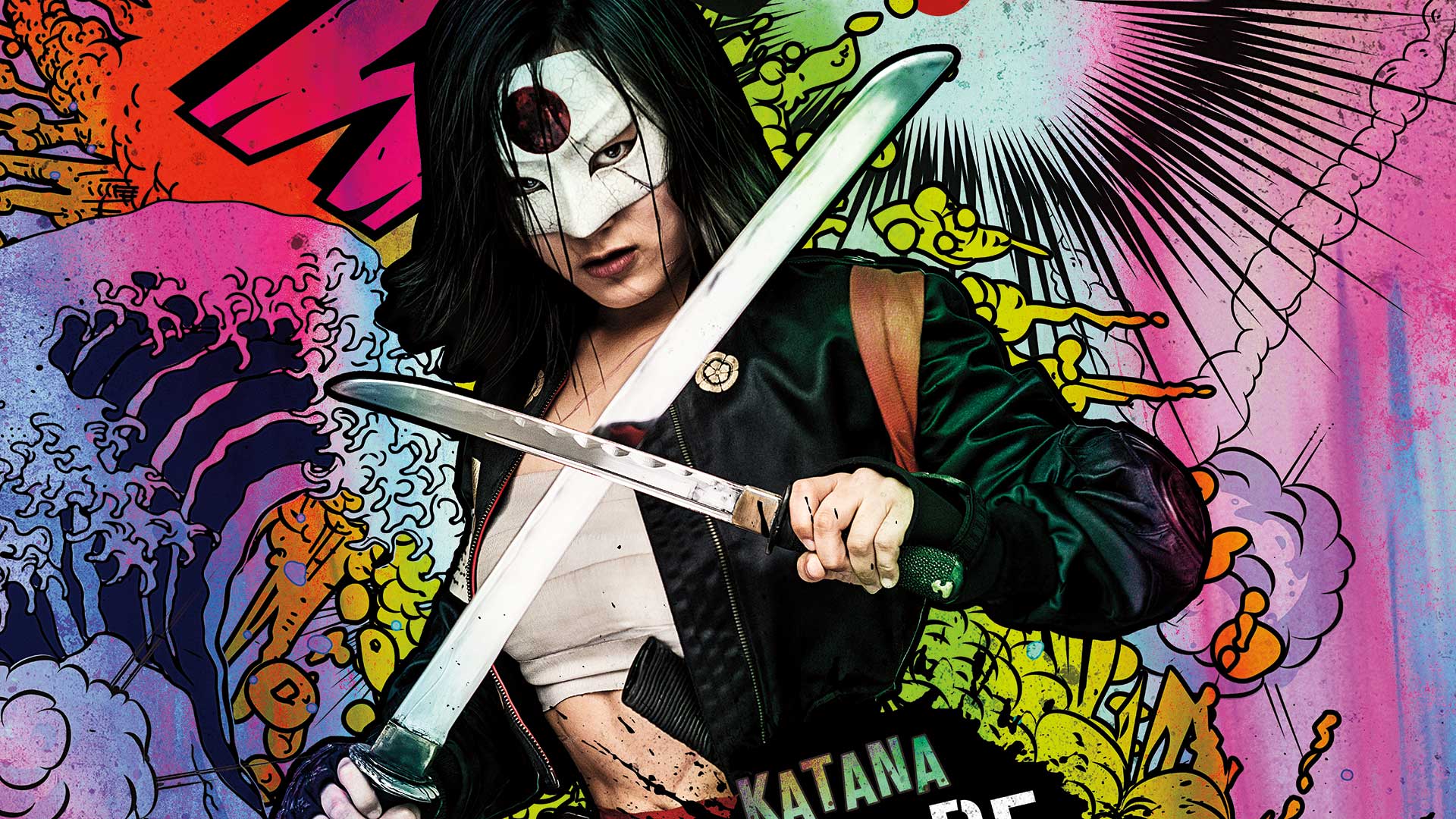 Lastly id just like to mention Katana (reminds me of Katana girl from Heroes Reborn!) a sword wielding martial arts expert.  Who has some good fight scenes.  We see a bit about her storyline but not enough to really get into or care for her character, so again just a screen filler role.
Are they trying to make the bad guys look good?
This was a weird movie though, its like who are the good guys.  You end up routing for the guys as they battle the evil enchantress and saving the world, but they are just the lesser of two evils.  Maybe in a way the film is portraying the message that we are all 'bad' in a way, there are no 'good guys' just less evil ones!?
I didnt like the evil henchmen with whom there is a big fight action scene.  Harley Quinn the crazy hard 'bitch' goes through them with a baseball bat!  While the rest struggle.  They are like giant avocado people maybe it was easier to do the CGI.  The CGI overall was well done and it wastn over the top.  There was some good dialog and some good stunts.  The movie closed in a way where we are already expecting a sequel.  Its like the A-Team of metahumans just waiting for their next mission.
Overall its a good and fun movie to watch, not as dark or sinister as say BvS and Superman Movies but has lots to keep you interested.  Maybe they work, as solo super hero movies are just getting a bit boring?  People want to see lots of powered people on screen like in X-Men.  I would not however go out my way to watch it again.
So im giving it 7 out of 10.
Save
Save
Save