If youre looking for a great new Netflix Series / TV / Web Series to binge with during 2020 Lockdown try Hasmukh.
First of all let me say I will not go into technical details like giving names, locations etc… it will be brief discussion as to excite you to watch and not to spoil it too much.
Warning there are spoilers but nothing OTT.
So if you strip it down to its bones what you have is a down on his luck wannabe commedian called Hasmukh from an Indian village who reaches stardom and greater things but only by murdering people.
What a murdering comedian?
Well yes, but bear in mind its a comedy series unlike say Sacred Games..
So that is the main character and the show revolves around him. This comedian is not portrayed as an evil person but someone who only kills bad people (according to himself that is!) and only out of necessity and only for a living. To survive in the dog eat dog world of glamour and comedy.
Even if you take the murdering away you have kidnapping, blackmailing, adultery, treachoury, drugs, corruption and work place politics….yes a real sinfest but maybe a true reflection of the society they are portraying?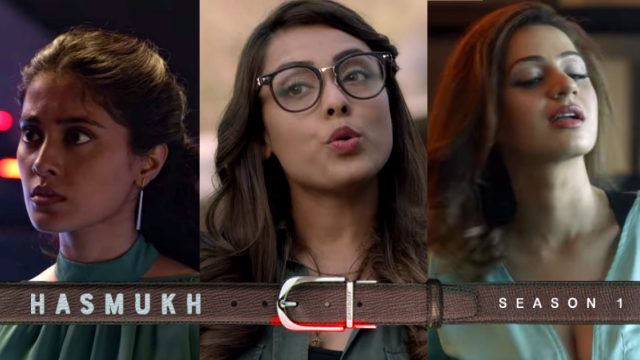 The comedy is definitely there and you have some well known faces in the cast along with some nice eye candy. Also the main character is played by Vir Das who is actually a real life stand up comedian so I assume he will have written some of the jokes in the show!
As its a Netflix TV Show i wanted to see a few more well known faces or cameos from bigger names. We cant complain too much as its more about the story and the delivery. There are some Bollywood actors such as Ravi Kishan and Ranvir Shorey and they give a solid performance. Also those who are familiar with Bollywood villains will have heardof Raza Murad
The show starts off in a small village with some low key characters and then progresses further and becomes more modern feely as the character moves to Mumbai to try and become the next King of Comedy by competing against the established winner called KK.
It was fun to watch some of the work place politics and back stabbing and blackmail. I am sure this happens in real life so its feels wrong to say it was fun to watch… But we need the twists and plots to get through all 10 episodes.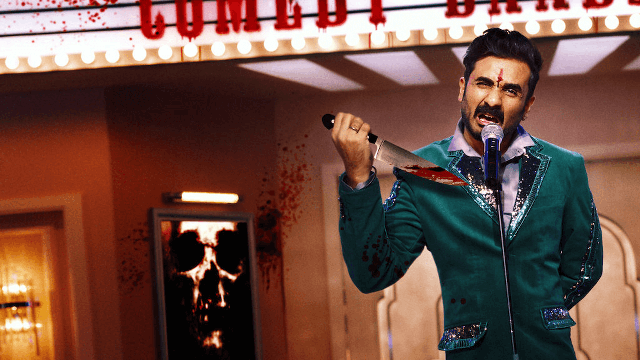 Belt Killer…
Leading up to the battle of comedians for the title of King of Comedy there are a string of murders and deceit. All the victims strangled with a belt hence the Belt Killer name. But not long after being in Mumbai things start going wrong. So it then becomes a juggling job between covering themselves, finding more victims to sacrifice for 'his greater cause' and working hard 'honestly' to reach the top.
It is ironic that a murderer has morals… On one hand playing judge jury executioner and on the other hand a hard working comedian who sort of appeals though sympathy. But Husmukh is innocent at heart with honest ambitions though he goes about achieving these the wrong way. At home he is somewhat exposed to both physical and sexual harassment along with continuous belittling and put downs. Maybe these are the causes of his murderous needs to get his 'feel' or strength to perform and make others laugh?
Bearing this in mind it has to be watched as a comedy simply for a few laughs and entertainment, otherwise what you are doing is sympathizing with a murderer and his cause…
The acting is good and the editing is good quality. It is the same with a lot of the Indian TV Shows on Netflix, you have the modern editing and finish with familiar feel and characters.
Very modern and entertaining.
Hasmukh Official Trailer:
This is just one of many Hindi Netflix TV shows and you can find more to watch and read about here.